Dear Parishioners,                                                                                                                                  +JMJ
We celebrate Christmas this week, the birth of Love Incarnate, Jesus Christ, God's Love entered into our world, so that we could see Him, hear Him, touch Him, …. ultimately know Him. As I am writing this letter, I have just finished celebrating an evening funeral Mass for one of our young Hispanic men, Ricardo Reyes Alcantar. He died after a tragic accident this past week, leaving Magda, his beautiful wife, and Lila his 2-year-old daughter in Mexico. Magda was present for the funeral Mass. Ricardo's employer graciously flew her up her for it. Because Love Incarnate, born in a manger, should inspire in us great, gutsy love, I thought I would share with you my homily for this funeral, based on the beatitudes of Matthew 5:1-12, and inspired by a picture of little Lila, Ricardo's daughter, walking through a cow barn where her father worked, and where he died. May we all live greater love and appreciate more fully our lives in Jesus Christ, who gives us Life! Here's the homily:
Magda, first, on behalf of our whole parish, I want to offer you, to Lila and to your whole family, our deepest condolences in this very difficult time. Our hearts are with you. We love Ricardo, and we love you and Lila. You both were obviously the light of Ricardo's eyes. We could all see it when you visited this past summer. And as soon as Ricardo knew you were going to visit, I got to see pictures of you and Lila and hear the excitement in Ricardo's voice. My guess is that he showed everybody in the county your pictures!
I first met Ricardo almost two years ago. It was at our showing of the documentary for Our Lady of Guadalupe  in the Knights of Columbus hall. Ricardo was so eager to explain to me that only shortly before he came to the United States he had completed an adult course of preparation to receive the Sacrament of Confirmation. And, although it was later in life than normal, he was glad he was able to study the faith and comprehend it more as an adult. So I know he was man of faith. He was certainly a man of hope… hope in God, hope for a great future for his family… and a man of love…. love for God, and love for you, his family, for whom he was working here in the United States.
As I was preparing the homily I kept being drawn to that beautiful picture of little Lila walking through the huge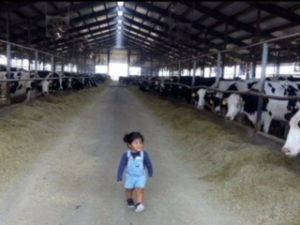 cow barn alone. I hope everybody here gets to see that picture – and all the other beautiful pictures from Ricardo's life that are out in the narthex. In that one picture, tiny Lila is walking through the cow barn as if she owns the place. (And she probably thought she did!). That huge barn as the backdrop of Lila's picture reminds one of the huge world that Lila now will face with you, Magda. But you have Jesus Christ in you, and the help of Our Lady of Guadalupe, to make the journey in this world still glorious.
Such a big personality in Lila, so precocious. She of course got her personality from Ricardo and you. And now there is the daunting task of raising that little personality into a still greater character… one capable of giving herself in love to God and neighbor her entire life. Magda, it will be your example and prayers, certainly the prayers of Ricardo, and the rest of your family's prayers and example to help Lila grow into a woman of dignified, wise, mature, sacrificial love throughout her life. Then, in Jesus Christ, with the help of Our Lady of Guadalupe, little Lila – grown into a graceful, mature, woman of love – will be able to own the world around her by love.
Mature love is our goal. A love that can even eventually suffer, if God so allows. That's the momentum in the list of beatitudes we read in our gospel today from Matthew chapter 5. It's suffering love as the goal of blessedness. Blessed… blessed… blessed…. It's a word from Greek (makarios) that means deep contentment. Deep contentment, deep peace, comes from learning how to love deeply, how to give yourself for God and others in service love. By Jesus' grace, that brings about the deepest contentment in us, because it is actually what we were created to do. Our human nature thrives as it gives in love to God and others. It's built into our Godly design. At the beginning of the beatitudes you have "Blessed are the poor in spirit…." Then by the end of the beatitudes Jesus is claiming blessedness for disciples who are persecuted for the sake of righteousness, and also persecuted for Jesus' sake. In sum, we move from blessedness for being poor in spirit, to blessedness for being persecuted because we love Jesus and live for him. That's suffering love. And the person who knows this love, is capable of it, is truly blessed indeed.
Magda, as you suffer… and you will suffer for a long time… the loss of Ricardo,… Again, our prayers are with you. May you experience Jesus' grace, so that you and Lila know Jesus' way to a profoundly blessed life still.
As we offer Ricardo's life in the Mass to the loving embrace of His Heavenly Father, in Jesus Christ our Lord, may each one of us become more firm in our decision to live with Jesus' love every day of our life, always more deeply. Jesus comes to us in every Eucharist to bring this about.
 May your Christmas celebrations be truly blessed!
In cordibus Iesu et Mariae,
Fr. Poggemeyer