Dear Parishioners, +JMJ
Back in August of 2018, the Diocese rewrote its guidelines for the scheduling of Masses in parishes. This was because several deaneries asked for guidance, as parishes have been combined, and demographics are on the downturn in some areas. The guidelines recommend that a parish every three years look again at Mass Attendance counts, seating capacity, and even parking capacity, if that applies. On occasion I've had people ask me if I thought about eliminating our 6 PM Saturday Mass at Paulding. I've regularly said that I wasn't ready to consider that, because it seemed to me there were weekends when the 6 PM Paulding Mass congregation would not fit into the 4 PM Payne Mass. In other words, I thought there wouldn't be space at Payne, if we combined them. But, I've always just sort of eyeballed the size of the congregation. I have not been looking at the numbers for myself. So, finally we did a study of Mass attendance counts for each campus throughout the past year. The chart in this bulletin shows the results.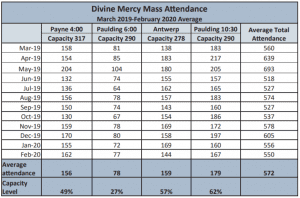 Studying the chart, it seems obvious to me that we really ought to eliminate our 6 PM Saturday Mass at Paulding. Looking at the averages of each month over the past year, the Saturday 6PM congregation would definitely fit into the 4PM Mass. Plus, with the elimination of the 6PM Mass, I imagine there would be some people who would choose to start going to one of the Sunday Masses; and those Masses also have extra room.
What are the reasons for wanting to be more efficient with our space and the number of Masses? The diocesan guidelines and the Bishop's explanatory letter recommend several reasons that apply to our situation:
In general, any Mass where less than 50% of the seating capacity is used ought to be evaluated. Our Saturday 6 PM Mass uses significantly less than 50% of the seating. –
For each parish, no more than one "anticipated Sunday" (i.e., Saturday "vigil") Mass is to be celebrated. Because of pastoral need, we have had two vigil Masses at Divine Mercy, at least since 2008. –
Canon law sets the number of Sunday Masses for a priest at three. At least ever since the merger of our parishes in 2008, the priest has always celebrated four. This has been a pastoral exception, given the complexity of the merger with three campuses, and the population at the time of the merger. –
Along these lines, we should consider the health of our priests. Weddings almost always happen on Saturdays; and funerals often do. In our current situation, that means the priest on those weekends celebrates five Masses in two days. That's too many. –
We should consider the ministers (musicians, cantors, lectors, extraordinary ministers of Communion, servers) needed for all of our Masses. Masses with a bigger congregation by definition will leave us a greater pool of ministers for scheduling. This is to respect the wellbeing of the ministers, so ministers aren't required to take on too much. –
The Bishop's letter mentions vitality of the liturgies. In general, Mass with a bigger congregation feels more uplifting. This also builds the sense of community.
Considering all of these points from the diocesan guidelines – and studying the actual numbers – I think it's pretty clear that the Saturday 6 PM Paulding Mass should be eliminated. The big question then is whether or not we are to adjust the timing of the Saturday 4pm Payne Mass. Ever since I've been here, there are occasions when people said told me that they don't go to the 4 PM Mass, because it's simply too early on a Saturday. People with young children have to start preparing at 3PM to get them there. "Half the day is taken." Should we, for example move the 4 PM Payne Mass to 5 PM, so that it will better serve some of those people who will be losing the 6 PM Paulding Mass? Wouldn't that be a great way to provide a compromise time that might serve those Saturday 6PM people?
But, then, there are reasons some people might think we ought not to change the Payne Mass to 5 PM. For example, in the winter months it gets dark by 6 PM; and particularly the elderly don't like to travel in the dark. Plus, people in Payne have been used to a 4 PM Mass, ever since Saturday vigil Masses were begun by the Church. Wouldn't a time change be too upsetting for those people? Or, somebody might mention that there are a lot of basketball games that happen in the winter, and they start about 6PM. A 5PM Mass is too late for somebody who wants to get to one of those games.
In my opinion, the best solution I've heard is to stick with 4 PM for our Payne Mass, during daylight savings hours in the winter. But, then switch to 5 PM for the rest of the months. This plan would solve the travel-in-the-dark problem for the elderly, and the sports conflict in winter months.
So, there is the discussion happening in my head anyway. I've consulted some, and this will be the topic of my next pastoral council meeting, which will be held by Zoom on April 23. You might be hearing from pastoral council members who are seeking your input. Please ask the Lord to give us wisdom, so that we can serve the greatest number of people, efficiently and effectively, with our Saturday Mass schedule.
My intense prayers and thoughts continue with you in this COVID-19 pandemic. Stay healthy and stay holy! Have a blessed Easter season!
In cordibus Iesu et Mariae,
Father Poggemeyer