Dear Parishioners,                                                                                                                                                                                                                   +JMJ
The day prior to writing this letter, I encountered a parishioner who had not yet heard that I was being assigned to another parish. That was "my bad". I thought that my YouTube video with that announcement would have spread the news somehow to everybody, even those who do not have access to computers. But, evidently that was not the case. My apologies to anybody who was left out of the news! So, here is the news in writing.
The Bishop called me about a month ago to ask me if I would accept an assignment to Fostoria Saint Wendelin's Parish. Of course, I said yes, which I have always done when it comes to new assignments. I came out to Paulding, for instance, after having only completed four years of my prior parish assignment, because the parish was in need after Father Fillman died. Prior to that I accepted other assignments, which sometimes came as a surprise.
Why would I be asked now to take a new assignment? Well, the local law of the diocese establishes pastors' assignments at six-year terms. I will complete six years here at Divine Mercy Parish at the end of June. That's the first reason. Secondly, the bishop – always with the help of the priests' personnel board – each year has to put together a pretty complex puzzle of assignments for the upcoming year. This is because each year priests die, priests retire, priests get sick, priests are required for some special ministries outside of the Diocese, and God-willing each year we have new priests being ordained. Put all of this dynamic together, and you can understand that it can be a pretty complex puzzle. Evidently, as the Bishop and the priests' personnel board discussed the needs, it was decided that moving me to Fostoria Saint Wendelin's Parish was in everybody's best interest. I know Saint Wendelin's Parish a little bit, because I was assigned there on my pastoral internship year in the middle of seminary studies about 25 years ago.
I am very grateful that at the same time the Bishop made the announcement about my move to Fostoria, he also announced my replacement here. Father Austin Ammanniti, currently Associate Pastor at Saint Peter's Parish in Mansfield, Ohio, will take my place here in Paulding County. I know Father Ammanniti pretty well, because he spent a summer with me in downtown Toledo during his seminary studies. I am very confident he will be a great fit for this parish, and you will be abundantly blessed. I also know that he will be abundantly blessed by you during his service here.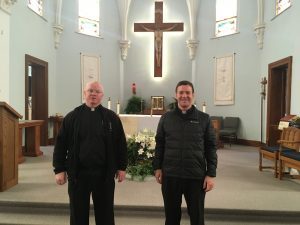 As I am writing this letter, it was only yesterday that Father Ammanniti came out to see the parish officially for the first time. He arrived in the evening, in time for evening prayer from the breviary and dinner with me. Then we toured the church at our Paulding campus. The next morning we celebrated Mass together. Perhaps you got a brief Youtube glimpse of him as he stepped forward to receive the Precious Blood from the chalice at the altar. Then we spent the rest of the day touring the rest of our Paulding Campus, and then Antwerp and Payne. He also got to meet the pastoral leadership team/staff who came over to see him at each campus. I think he really enjoyed all that he saw; and I think he's inspired by all that he has heard about our life at Divine Mercy Parish of Paulding County.
Have a blessed week! Stay holy, and stay healthy!
In cordibus Iesu et Mariae,
Father Poggemeyer