Dear Parishioners,                                                                                                                                  +JMJ
Thank you to everybody who made Father Scott Perry's Masses of thanksgiving at our parish so beautiful: musicians, cantors, lectors, Eucharistic distributors, servers, ushers, etc. Then thanks to everybody who made the reception a wonderful celebration. Knights of Columbus from Paulding and Payne helped with setup, take down and grilling. Then many others helped with setup and take down. And so many people brought great side-dishes and desserts. Thanks to all who attended. It's appropriate that we celebrate the priestly ordination of a young man whom we had the privilege of helping along his journey!
On another note, what does a pastor's rosary look like? I don't mean the physical look.…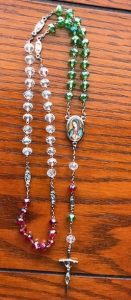 (But, I can tell you the rosary I use now is one that was gifted to me from a family that visited Mexico. The various decades are created with beads that are white, red and green, i.e., the colors of the Mexican flag. And there is an image Our Lady of Guadalupe right before all the decades start. I used to have a black rosary, with the crucifix specially designed for Pope Saint John Paul II on it. But, I lost that a couple summers ago on a trip.)
Anyhow, I really mean, how does a pastor pray the rosary? My praying of the rosary has evolved throughout the years of my life. Here's a bit of a glimpse at what it looks like now. Maybe it can give you some inspiration regarding how the rosary works in your own life.
For the first "Our Father" (the one right after the Creed), I think about the Pope, and everybody immediately around him who tries to help him; and I asked Our Lady to guide him and protect him from error. Then, I also think about Bishop Thomas, and I ask Our Lady to provide for him everything he needs for the day. Then, I think about all of the priests in our diocese, especially those with whom I work most closely, those in my priests' support group, and those I remember from around the country and around the world, with whom I have studied or worked.… And I ask the Blessed Mother to meet all their needs for the day, guiding the graces from her Son Jesus. Finally, with this "Our Father", I ask Our Lady to guide all those who ought to be considering consecrated (priesthood and religious) vocations.
After that "Our Father", I recite the three "Hail Mary's" for an increase of faith, hope and charity. Immediately after these three "Hail Mary's", I think of everybody I know in the parish who is facing physical illness. And, I asked the Blessed Mother to provide for all those who are physically or spiritually ill in any way in my parish. (This includes all of us to some extent, because we all still have to become fully whole in spirit, i.e., fully loving, totally holy. (Sinfulness is a spiritual sickness!)
Next come the decades where we focus on the individual mysteries of Our Lord's life. I follow the traditional schedule for the mysteries… The Joyful Mysteries on Monday and Saturday, the Sorrowful Mysteries on Tuesday and Friday, the Luminous Mysteries on Thursday, and the Glorious Mysteries on Wednesday and Sunday.
Before each decade, in order both to announce the decade and apply it in an intercessory way for my parish, I say following prayer, which I made up: "Blessed Mother, by the merits and graces of your Son's scourging at the pillar [or nativity, or transfiguration, etc., etc.], overcome within my parish boundaries all ordinary and extraordinary work of the devil, and bring us all to fervent holiness."
I end each decade with the "Glory Be" and the "Fatima Prayer" (i.e., "Oh my Jesus, forgive us our sins,… etc.). And, I usually add after that a prayer I learned some years ago from the Family Apostolate near Steubenville, Ohio: "All for the Sacred and Eucharistic Heart of Jesus, all through the Sorrowful and Immaculate Heart of Mary, all in union with Saint Joseph."
When all five decades are complete, I conclude the rosary with the "Hail Holy Queen" and the "Prayer to St. Michael".
So, there is what a pastor's rosary looks like. Have a blessed week and great 4th of July celebrations!
In cordibus Iesu et Mariae,
Fr. Poggemeyer