Dear Parishioners,                                                                                                                                  +JMJ
Thank you to everybody who helped to make the beer and wine tasting event this past Saturday night a great success! Thanks especially is due to the committee that worked hard for months in preparation, but also for everybody who takes on a specific service during the event itself, and then finally for everybody who attends. Since its inception three years ago, I have found the event to be a great community builder, and simply a lot of fun! [The current team has competently organized this event for the last three years. It would be great to get some new blood in, while the event is still fresh in our minds. Anybody out there willing to step up to take some leadership? Current leaders can help you learn the task.]
Thank you also to everybody who made the Divine Mercy Golf Scramble a success this past Saturday. The Divine Mercy School Council, in particular, deserves thanks for organizing this event… and it takes some months to get everything in place! So, thank you School Council! And many thanks to everybody who came out with a team to support the Golf Scramble, even in the rain! All money raised from this event goes towards helping families in need with tuition at Divine Mercy School.
This coming week, September 17th – 23rd,  I will be out of town for some ongoing education. Although Tuesday, Wednesday and Friday Masses are canceled, we will still have Thursday's school Mass at Payne. A substitute priest will cover that school Mass and next weekend's Masses. And we will still have Adoration of the Blessed Sacrament throughout the day on Wednesday in Paulding.
Do you have faith builders spread throughout your life each day – things that help you turn your mind to the Lord? Here's one of mine that I'll share with you: Most weekdays I try to get some exercise time down on the treadmill in the rectory basement. You and I are body-soul composite, so if we have a job that focuses primarily on the mind and/or the spirit (i.e., more of a desk-job), we have to schedule the physical workouts, in order to take good care the body. In front of the treadmill there hangs a picture that was given to me by a policewoman as I was leavin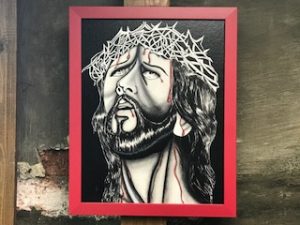 g one of my previous parishes. It's a black-and-white ink drawing of Jesus, crowned with thorns. The picture is Framed in red – which highlights the only red within the picture itself, i.e., the blood running out of Jesus' wounds. The police woman who gave me the picture explained that it was actually created by a prisoner she had cared for earlier in her career. The picture's source is a meditation in itself, the connection between suffering Jesus crowned with thorns and the prisoner artist. And, there's also a connection between pummeling the body with exercise, and the suffering of Jesus. So while I'm running on the treadmill and listening to a Catholic podcast, I am also looking at this picture of Jesus.
Have a blessed week!
In cordibus Iesu et Mariae,
Father Poggemeyer