Spend a royal week with the King and Queen of Heaven and earth!
Enter through the gates of the kingdom and learn all about Mary, and how she leads us closer to her Son the King of Kings.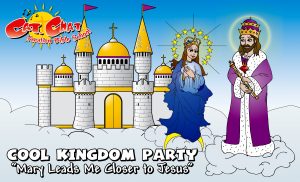 VBS runs from Monday, July 23 through Thursday July 26, 6 – 8:30 in the evenings at the Antwerp Center, located directly behind the Catholic Church in Antwerp (303 S Monroe St, Antwerp). $10 suggested donation.
VBS is for all students ages 4 through those going into 6th grade. You do not need to be from our parish or even be Catholic to attend. Older students and adult are encouraged to volunteer.
You can find a registration form on our website.
Registering early helps us to plan, but we will also accept walk-ins.