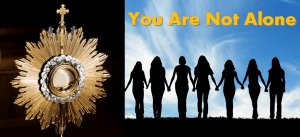 All girls in grades 6 – 12 are invited to join us on Tuesday, June 26 from 10 am to 4 pm for our annual Girls Retreat!  Our theme this year is You Are Not Alone.
Join us for a fun and faith-filled day and learn about how our faith, real friends, and adults around us provide the support structures we need on our journey.
Our day begins with Mass at 10 am in the Antwerp Church (303 S Monroe St, Antwerp OH).  Lunch is provided.
Contact Theresa Conley at 419-399-2576 or dre@divinemercycatholic.com with questions or to register.  There is a $10 suggested donation for the retreat.
 This year our girls retreat is presented by the Sisters of the Most Holy Trinity from Euclid, OH and our own Sr. Mary Knuckles O.SS.T.