To everyone at Divine Mercy Catholic Parish: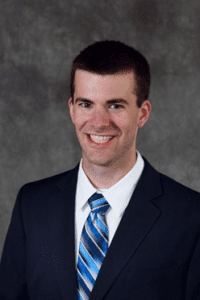 Greetings! My name is Bradley McNeal and I am a seminarian for the Diocese of Toledo. I am pleased to inform all of you that I have been assigned to spend a couple of the summer months at Divine Mercy Catholic Parish. During my time at your parish this summer, I will come to learn more about parish life and be involved in various ways within your parish community. I want to thank Fr. Poggemeyer for inviting a seminarian to be involved in your parish this summer and am very much looking forward to getting to know many of you as well!
Before I begin my summer work at Divine Mercy, I would like to give you all a little information about myself. To begin, I was born and raised my entire life on the west side of the city of Toledo and can be considered a "city boy". I am the youngest of three boys. My home parish is Most Blessed Sacrament Parish and I attended the parish school from grades k-8. I went on to attend Cardinal Stritch Catholic High School and the University of Toledo, where I received my bachelor's degree in special education.
Currently, I am finishing up my second year of Pre-Theology (philosophy) studies at The Athenaeum of Ohio / Mount St. Mary's Seminary of the West in Cincinnati, and am planning to begin my first year of Theology studies this fall. At the seminary, I am involved in their Latin Schola, which performs for various seminary events throughout the year. It is at the seminary where I discovered my ability to sing and is something I am continuously working on getting better at. In regards to personal interests, activities I enjoy doing include reading, watching movies, spending time outdoors, and working out. I am fan of baseball as well as college football & basketball. Some of my favorite teams include the Detroit Tigers, University of Toledo, and Ohio State.
I am looking forward to being able to share with you more about my discernment and my time in seminary this summer. My time with serving at your parish this summer will be a learning experience for me and better prepare me for a priestly vocation. Please know that your parish community is in my daily prayers and kindly ask for your prayers as well, not only for me, but for all of the other seminarians and for an increase in vocations to the priesthood and consecrated life. I look forward to being at your parish in the summer months ahead!
God Bless,
Bradley McNeal