Gear up for an exciting hike through the wilderness!
Kids will discover amazing things about Baptism, Eucharist, Confirmation and Reconciliation!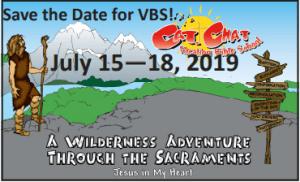 All children ages 4 through those going into 6th grade are welcome to attend!
VBS will be held Monday July 15 through Thursday July  18 from 6:00 – 8:30 pm at the Center in Antwerp (located directly behind the church in Antwerp).  VBS is free but each family is encouraged to donate $10 or a needed food item to help defray our costs.
Registration forms can be found in each of our 3 church locations or in the bulletin or can be printed off here: Registration form 2019