Divine Mercy Catholic School will begin classes for the fall on Wednesday, August 18.  Our open house will be on Monday, August 16 from from 5:00-6:00. We're excited to have Grant's Smokin' Wheels BBQ food truck in front of our gym during open house.
Divine Mercy School announced to parents and students this spring that the school will introduce a school uniform policy in the fall.
School uniforms, like sports uniforms, create a sense of unity and belonging. They are also designed to relieve the stress of economic status and competition, and help students feel free to learn without distractions from their attire. We take pride in the appearance of our students. Their appearance reflects the quality of our school. School uniforms ensure a neat appearance, in which students can take pride in and feel confident.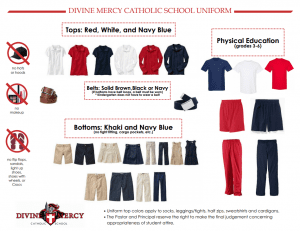 Our complete uniform policy and our school supply lists are available on the school website.