Growing in our faith is a life-long pursuit, so our parish tries to offer diverse opportunities for adult education. In addition to small group Bible studies, prayer groups, and study clubs, Fr. Ammanniti offers a virtual Catholic Chat discussion group on the first Tuesday of every month dedicated to conversation about current Catholic events.
Divine Mercy Parish also works with the Diocese of Toledo, through your generous donations to the Annual Catholic Appeal, to offer Franciscan At Home adult education classes.  These online courses are open to any parishioners.  Contact Theresa Conley for more information.
Books and DVDs are available for registered parishioners to borrow from the parish library at any time. A small selection of books and videos are available on a bookshelf in the Narthex of the Paulding church.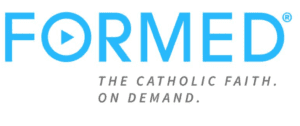 One of the best resources available to all parishioners is our parish subscription to the Catholic streaming service FORMED.
FORMED provides the very best Catholic content from more than 60 organizations to help parishes, families and individuals explore their faith anywhere. Supporting thousands of movies, children's programs, ebooks, audio, parish programs and studies direct to your browser, mobile or connected device.  To sign up, just go to FORMED.org, click on "sign up" and then click "sign up as a parishioner."  Choose our parish, and start watching!
For more information on any of these programs, please contact the parish office.