Vacation Bible School: Vacation Bible School is open to students ages 4 through those going into the 6th grade.  We meet the last week in July from Monday through Thursday and use Cat Chat VBS programs.
You can download and print off a registration form here: VBS Registration form 2022
Or fill one out online here
Parish School of Religion:
Check out our 2022 – 2023  PSR Newsletter 2022 for a full overview of our program.
You can also view our full PSR Calendar for 2022-2023
At Divine Mercy Parish, the religious education program for children in Kindergarten through 8th grade is called Parish School of Religion (or PSR). Classes are offered at various times and locations on Wednesdays from mid-September through the first week of May. Families can choose whatever time and location works best for them.
Grades K – 5 in Paulding meet from 4 – 5 PM
Grades K – 5 in Antwerp meet from 6:30 – 7:30 PM
Grades 6 – 8 in Paulding meet from 7 – 8 PM
Grades 7 – 8 in Payne meet from 7 – 8 PM
Grades 6 – 8 in Antwerp meet from 7:45 – 8:45 PM
Students with special needs are placed in mainstream classes whenever possible.
A fee of $30 per student helps cover the cost of the student textbook and supplies.  Elementary students in Paulding are also asked to pay a $10 snack fee.
Your generous donations to the parish make our work possible! Thank you!
All of our religion teachers (catechists) are fingerprinted and the online VIRTUS to ensure the safety of our students. Parents and parishioners are encouraged to volunteer!
For more information, to enroll a student, or to volunteer, please contact Theresa Conley
Homeschooling Families: Parents are the primary educators of their children, and this is certainly true for religious education as well. If you are interested in homeschooling your child in religious education, please contact Theresa Conley for information about textbooks and the Divine Mercy Homeschool Policy
High School:

The high school program at our parish is called YDisciple.  High School students encouraged to grow deeper in their relationship with Jesus through a small group of friends who are led by a trained mentor.  YDisciple men's and women's small groups meet 3 weeks out of the month during the school year to watch videos on topics of faith and discuss them.  One week a month, all high school students will come together for a large group event.  These events vary each month and may include a social gathering, a service project, a speaker, or a retreat or prayer opportunity.
For more information about YDisciple, to join a small group, or to volunteer with this program, please contact Theresa Conley.  Committed parent and young adult volunteers are needed to make this program a success.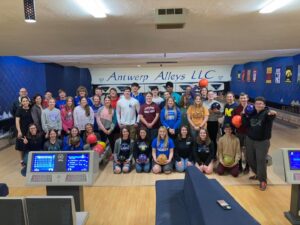 View our YDisciple Calendar for 2022-2023
You can learn more about YDisciple here.