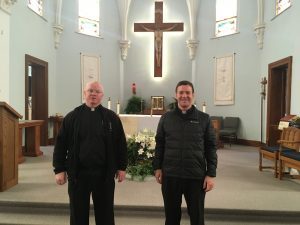 On Saturday, April 4, 2020, Bishop Daniel Thomas announced that Father Austin Ammanniti was named the next pastor of Divine Mercy Parish in Paulding County. His new assignment will start on July 1, 2020.  Fr. Ammanniti is currently serving as the parochial vicar at St. Peter's in Mansfield.
"I look forward to seeing what the Lord has in store for me in this next assignment, and I am grateful for the many blessings he has poured out on me during my three years at St. Peter's," Fr. Austin said.
On Wednesday, April 22, Fr. Ammanniti visited Divine Mercy and Fr. Poggemeyer took him on a tour of all 3 church buildings.