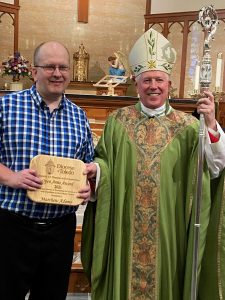 Congratulations to Matt Adams, son of Paul and Marilyn Adams, who received the Open Arms Award from the Diocese of Toledo for his ministry in the church! Matt is a dedicated altar server at our Antwerp campus.
The Open Arms Awards recognize Catholics with disabilities and their advocates who model Christian service in their parishes and communities. Bishop Daniel E. Thomas presented the awards on June 13 at St. Mary Catholic Church, Defiance.
Matthew Adams is a parishioner of Divine Mercy. He had a brain injury, which has changed his ability to talk and his brain functioning. Matt is able to live independently, but he also has seizures, so his parents regularly check on him. He lives within walking distance of the Antwerp church location, and attends Mass faithfully. He has been an altar server for more than 30 years and is dedicated and reliable in this ministry.  If Matt notices that there is an event going on at the church or the parish center, he will often stop by because he is very much engaged in the life of the parish. Matt is great in dealing with young children or elderly people.
Before the pandemic restricted outside visitors, he also volunteered every weekday at the local assisted living facility, The Manor House. He loved his volunteer work; the residents and staff appreciate him very much. He looks forward to returning to this work. Matt is proud of his work in the community and is a proud Eagle Scout.