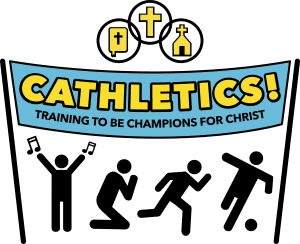 Train to be a champion in this Olympics/Sports themed VBS program!  Kids will be inspired to set goals and aim for excellence in their faith as they dive into the Bible.
All students ages 4 through those going into 6th grade are invited to join us for Vacation Bible School July 18 – 21 from 6 – 8:30 pm at the Antwerp Center.
Older students and adults can volunteer!
You can sign up by using the registration form in the parish bulletin or online here!  Registrations are accepted during the week of VBS, but registering early helps us to plan and we cannot guarantee enough materials with late registrations.
If you have questions about VBS or would like to volunteer, please contact Theresa Conley at 419-399-2576 or tconley@dmcparish.com