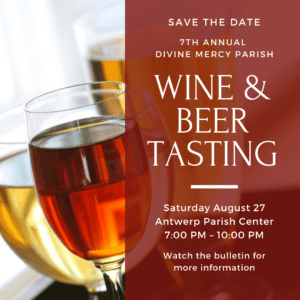 Save the date for our 7th annual Wine and Beer Tasting event!  It will be held this year on Saturday, August 27 from 7 – 10 pm in the Antwerp Center.  Tickets are available now by calling or stopping by the parish office.
New this year will be an opportunity to sample coffee from Convoy Road Coffee Roasters.  This company roasts coffees from around the world.  Samples will be free to those in attendance (meaning it will not cost you a drink ticket).  Packages of coffee will be available for purchase.
Volunteers are still needed for this event.  If you would like to volunteer or if you have an item for the silent auction, please contact the parish office.